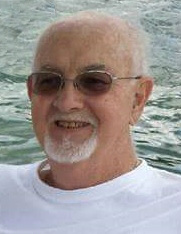 Gary D. Cross

Gary, age 68, of Blountville, Tenn., went to be with the Lord on Thursday, January 28, 2016 at the Wellmont Hospice House. He was born February 10, 1947 in Blountville, Tenn., a son of the late James Madison "Bunk" and Mary Frances Smith Cross.

Gary was a U.S. Navy Veteran; a Radioman, he was stationed at NBA/Farfan from 1964 to 1966.

He was a lifelong resident of the Blountville area. Gary retired from Ball Corp. after 38 years of employment. He also was a former employee of Kingsport Press and Holston Defense. Gary was a member of Blountville Christian Church. In addition to spending time with family and friends Gary was an avid golfer and enjoyed going to classic car shows. Along with his parents, he was preceded in death by a sister, Joanne Casteel.

He is survived by his wife of 44 years, Sharon Marshall Cross; children, Jonathan Cross, Sarah Jackson and husband Eric; grandchildren, Tyler, Kolby, Fisher and Jewel; siblings, Jim Cross, Phillip Cross and wife Pat, Janice Horne and husband Rick, Barbara Murray.

The funeral service for Gary was held at 4 p.m. Sunday, January 31, 2016, in the Weaver Funeral Home Chapel with Rev. Scott Price officiating. Interment was at East Tennessee Cemetery.

Pallbearers were Chad Cross, James Cross, Robbie Hobbs, Ralph Ford, Jim Snyder and Mike Porter.

In lieu of flowers, memorials may be made to Healing Hands, 245 Midway Medical Park, Bristol, TN 37620

This information provided by Shipmates Jerry Mader and Mark Anton.